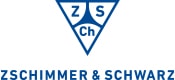 Spinsolve at Zschimmer & Schwarz
Dr. Philipp Kitschke, Project Manager & Dr. Bernd Schlichting, Managing Director

Zschimmer & Schwarz is a family-owned chemical company offering a broad portfolio of solutions to customers formulating products for various end-user markets, like Homecare, Industrial applications, Personal Care, Construction, Automotive, Leather or Paints and Coatings – just to name a few.
One of our core competencies is the customisation of products as the motto of the company says: Chemistry Tailor Made. Our self-conception of customisation includes the understanding of processes on a molecular level, as we want to offer our customers the most powerful and safe products.
State-of-the-art analytical devices form the backbone for this claim. In the field of NMR technology, we have chosen Magritek as preferred partner. At Magritek we found the ideal package consisting of support from the Magritek-team, user-friendly equipment, and cost-effective operation. Our analytical portfolio of three Spinsolve 80 NMR spectrometer enables us to study compounds possessing 1H, 19F, 13C, 29Si and 31P nuclei. Both areas, R&D and production / quality control, use the high-quality data provided by the spectrometers. In addition, the use of the autosampler extension shortens our time to market for R&D and customising projects as it allows quick and standardised analysis of samples.
Based on our experience, Zschimmer & Schwarz looks forward to a fruitful cooperation with Magritek in the future.
Dr. Philipp Kitschke & Dr. Bernd Schlichting